This week I'm in the interesting, yet nail-biting position of waiting for two agents to finish reading the full manuscript of Far From the Tree, having had two requests for a full within a week of one another. Needless to say, this is all enormously exciting, and, whatever the outcome of those calls, I feel very fortunate to have made it off the virtual slush pile and onto the desks of not one, but two agents. It gives me hope that I'm on the right track, and I just need to keep plugging away now until someone in the business decides I'm worth taking a punt on :). The timeframe for these things is quite fluid, so I'm trying to pace myself and not get too het up about the whole process. I should imagine, though, that if either agency comes back to me with a 'Yes', you'll be able to hear me screaming from the rooftops regardless of how far away you live from me ;).
While I'm awaiting a decision from them both, I'm trying not to obsessively check my email, phone, landline, twitter feed, runes etc, and trying gamely to focus on other things. Since Sweeter than Cider is at a stage where I need a good chunk of time to get to grips with the structure, that will have to wait until next Tuesday when I get a long anticipated chunk of CFT (Child-Free Time) to work on it. In the meantime, I've been looking at many pretty things, and trying to make some, too.
Pretty Thing #1 –  Far From the Tree word clouds I've always loved word clouds, ever since I discovered them as part of my job. Basically, they're easier to look at than explain, so here's the one I made from the detailed synopsis of Far From the Tree.
  The idea is that, the more you use a word in a piece of text, the bigger that word appears in the cloud. There aren't many surprises for me in this one, although I hadn't realised just how powerful the parenting narrative is in the synopsis – I do now!! Here's one I did for one of the 'fruitier' scenes of the novel:
I do love that 'Alright' features prominently in this one – it's such a key feature of West Country dialogue ;).
Pretty Thing #2 – Poldark I thought I'd jump on the bandwagon (or should that be on the back of a black stallion?!) and post a little addendum to my previous blog entry about alpha males. It was brought to my attention that I'd left out a super worthy, and super current example of this trend in action; that, of course, of Ross Poldark. Or, at least, the most current incarnation of the character on the BBC, Aidan Turner.
The other night I was writing about a perceived yearning amongst readers of romantic fiction for a more alpha kind of hero, and there's no doubt that Poldark fits snugly into this category. Whether it's the old version, the reboot, or the original novels, Ross is clearly a man of passion, charisma, integrity and, of course, rampant sex appeal. That he's been played by the incredibly talented and attractive Aidan Turner in this current incarnation is an added bonus. Here is  character who combines physical endurance with emotional intelligence; a character who strives, no matter what the odds, to achieve the best for himself and those whom he holds dear. Is it any wonder that viewers were tuning in in droves on Sunday nights to see Aidan Turner stripping off…er, manfully striding, riding, mining, scything and bonking his way through the Cornish countryside? Allow me to remind you, if indeed, you need reminding, of some of the moments we came to know and love: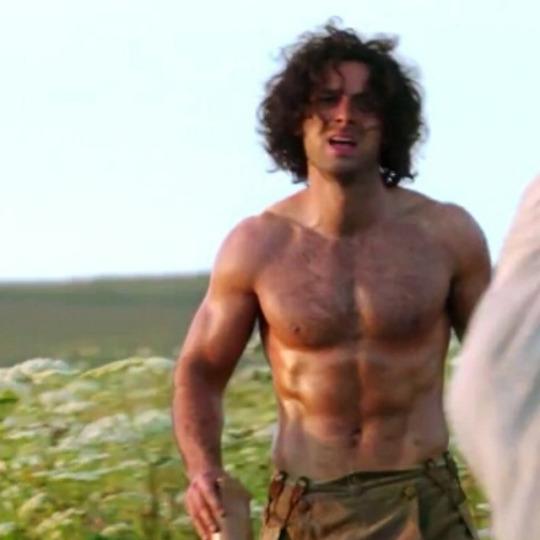 Pretty Thing #3 – 'Far From the Tree' by Bridie Jackson and The Arbour
My lovely mother-in-law-in-law alerted me to this fab song, which obviously shares the same name as my novel. Folky, edgy and all round fantastic, it would be great on the soundtrack to the film of my book, one day 😉 So that's it for now. The challenge will be to find even more pretty things over the coming days and weeks to stop the nail biting!!