**CAUTION! The following post contains lots of pictures of beautiful people in their pants. And some rather breathless discussion of the notion of sexy underwear. Proceed carefully…**
I'm feeling a bit naughty tonight. It's been raining on and off, and after writing about being in creative stasis, my mind started to wander to other, more, er, exotic areas. I blame Jessica Lange, frankly, as I've been watching a lot of American Horror Story on Netflix, and she looks incredible in her scarlet chemise as Sister Jude. Don't believe me? Have thirty seconds of her seducing Joseph Fiennes' Monsignor Howard…
Not to mention the utterly ravishing Lily Rabe doing the same thing, in the same chemise. I suppose I should warn you that this next scene involves bonking, The Devil, and a priest bonking The Devil, so exercise caution if that is Not Your Thing (although Rabe and Fiennes are both very pretty, and it's quite erotic!).
So why all this pondering? Well, pants have been on my mind a bit lately. I think it's because I'm getting a bit of a yen myself for retro undies, mostly full slips, stockings and suspender belts (not that any of those are in any way practical in my current incarnation as somewhat disorganised working mother of two; it's all I can do to fling a top and jeans on in the morning, but a girl can dream!), and it made my mind turn towards what my characters might wear closest to their skin.
I know that Matthew Carter's a boxer shorts kind of guy, probably cotton checked, possibly jersey. I know this because Anna has to go searching for some in his chest of drawers at one point in the novel, and the most exotic thing she finds is a rather unnerving photograph. He also has a cleaner who does his washing for him, so leopardskin thongs would take some explaining! Meredith might have bought him some Calvin Klein boxer shorts as a joke one year for Christmas, but he's a pretty classic dresser, close to the skin. I kind of imagine something like this. Oh, you mean David Gandy? Yeah, he's got great pants! 😉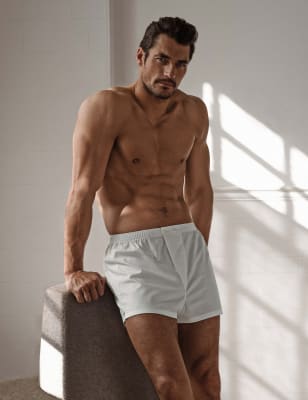 But when it comes to Anna, as always, I'm a little less certain. She's the mother of a toddler, which, from my own experience, precludes anything too exotic in the pants department.  I imagine she has a couple of good sets in special colours, though, and perhaps adheres to the matching top and bottoms theory. I kind of imagine her every day lingerie looking a bit like this…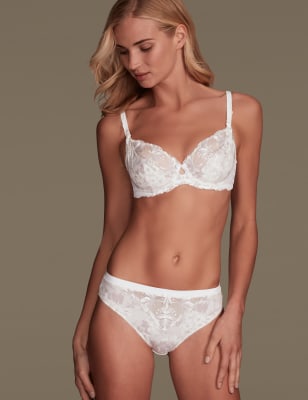 And her best set? This:
When it comes to the other characters I'm working with, I like to imagine that Charlotte, Anna's best friend, is a bit racier, so her husband Simon is a very lucky man! She might be a married mother of a toddler, but she has a naughty side and is rather fond of posh lingerie and killer heels. Sometimes together. So here's what she might look like…
And yes, that is Esme Bianco playing Charlotte ;).
And finally, let's think about Jonathan, Matthew's brother. I think I'll leave the pictures to speak for themselves…